Treatment of Cystoid Macular Edema and AMD (Age Related Macular Degeneration):
CME is one of the common effects after cataract surgery, and this condition happens for no particular reason, according to Dr. Mark Friedberg (https://hawaiionlineuniversity.org/mastering-oct-ocular-coherent-tomography-interpretations/).
Here are some of the medicines and treatments that have been used to deal with this pathology.
Prescriptions:
1) Topical steroids like:
Topical non-steroidal anti-inflammatory
Therapy combining a topical corticoste­roid and NSAID drops has been found to have greater efficacy in treating ME than either medication alone.16 Al­though not FDA-approved, topical NSAIDs are often used prior to cat­aract surgery to prevent postoperative ME.
Oral acetazolamide is occasionally used in the treatment of ME secondary to inflammatory conditions and retinitis pig­mentosa, particularly when topical NSAIDs and corticosteroids fail.
Treatment Risks
Intravitreal injections themselves are associated with small, but definite risks of serious, potentially blinding side effects in­cluding infectious endophthal­mi­tis, retinal detachment, hemorrhage, oc­­ular hy­pertension, cataract and hy­po­tony (Wilson & et al., 2013).
Re­cently published guidelines for in­tra­vitreal injections attempt to establish a best-practices approach for this in­creasi­ngly used technique (Koushik & et al., 2014):
"The consensus pan­el's recommendations addressed pre-injection considerations including an­­tibiotics, glaucoma evaluation, glove use, and treatment of pre-existing eyelid abnormalities, as well as the importance of avoiding ex­ces­sive lid manipulation be­fore and during the procedure".
"The re­­commended peri-injection regimen in­­­cluded the use of topical and/or sub­con­junctival anesthetic, topical povidone io­dine, and an eyelid speculum. The authors stressed the importance of mo­­ni­toring IOP and direct fundus visualization following the injection to verify per­­fusion of the optic nerve, intravitreal location of triamcinolone, and the ab­sence of injection-associated hemorrhage or retinal detachment. They also stres­sed the im­portance of patient education vis-à-vis early symptoms of potential complications and thorough follow up".
Injection sites: How to administer the intravitreal injection: (Misselev E., 2010) and
(Koushik & et al., 2014).
"Preinjection Risk Management
The study recommended the following steps:
1) Apply a topical anesthetic;
2) apply 5 percent or 10 percent povidone-iodine drops and/or periocular povidone-iodine eyelid preparation;
3) insert a sterile speculum to separate the lids; and
4) reapply povidone-iodine immediately over the injection site prior to injection.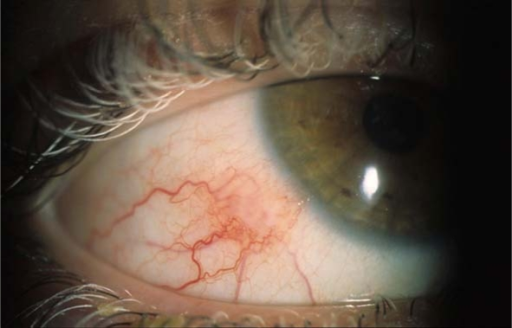 Image courtesy of https://openi.nlm.nih.gov/detailedresult?img=PMC2918649_cde0002-0125-f03&req=4
Local anesthetic. "Nearly all injections should be performed with local anesthesia, with topical anesthetic drops employed most commonly. Studies show no significant difference in injection-related pain with the use of topical drops, subconjunctival anesthesia, or topical anesthetic gel. There is some concern that viscous anesthetic gel may prevent adequate sterilization of the ocular surface".
Povidone-iodine. "Povidone-iodine is the only agent shown to decrease bacterial colonization as well as the risk of endophthalmitis. Application of povidone-iodine to the conjunctival surface, eyelids, and lashes is recommended prior to introducing the sterile speculum. (The speculum prevents the needle tip from touching the lids or lashes prior to needle insertion.)"
"Studies have found that a 5 percent povidone-iodine solution is as effective as 10 percent and is less irritating to the eye. There is controversy as to whether using drops or a flush is more effective. We recommend reapplication of povidone-iodine immediately over the injection site prior to injection".
Antibiotics. "The use of preinjection antibiotics is controversial. There is evidence showing decreased colonization of the ocular surface with the use of preinjection antibiotics, particularly in conjunction with povidone-iodine; however, there is no evidence to suggest that the use of preinjection antibiotics actually decreases the risk of endophthalmitis. Moreover, repeat injections are associated with more resistant flora" (Wilson & et al., 2013).

Image courtesy of: https://www.aao.org/eyenet/article/how-to-give-intravitreal-injections
Other treatments with different type has been attempted
"For example a study on a 20 year female with kidney transplant and eye macular edema showed that "the etiology of Purtscher-like retinopathy based on the rapid response and profound visual improvement after initiation of systemic intravenous eculizumab, an inhibitor of the complement cascade, in a patient with Purtscher-like retinopathy secondary to familial atypical hemolytic uremic syndrome (aHUS) due to a mutation in complement factor H" (Ramos de Carvalho & et al., 2017).
Nevertheless, according to RxList web site, there exists a "Life-threatening and fatal meningococcal infections (which) occurred in patients treated with Soliris. Meningococcal infection may become rapidly life-threatening or fatal if not recognized and treated early [see WARNINGS AND PRECAUTIONS]". https://www.rxlist.com/soliris-drug.htm
Kerolag is another drug substitute for treatment of CME and or AMD.
What is ketorolac?
Ketorolac is a nonsteroidal anti-inflammatory drug (NSAID). Ketorolac works by reducing hormones that cause inflammation and pain in the body.
Ketorolac is used short-term (5 days or less) to treat moderate to severe pain.
Ketorolac may also be used for purposes not listed in this medication guide.
Ketorolac can increase your risk of fatal heart attack or stroke, especially if you use it long term or take high doses, or if you have heart disease. Do not use ketorolac just before or after heart bypass surgery (coronary artery bypass graft, or CABG).
Ketorolac may also cause stomach or intestinal bleeding, which can be fatal. These conditions can occur without warning while you are using ketorolac, especially in older adults. You should not take this medicine if you already have bleeding in your stomach or intestines.
How to give Intravitreal Injections
"Intravitreal injection enables highly targeted drug therapy, maximizing therapeutic drug delivery to the posterior pole while minimizing systemic toxicity. With the increasing use of intravitreal anti-VEGF agents in the treatment of neovascular age-related macular degeneration (AMD), diabetic macular edema, retinal vein occlusion, and various other retinal vascular disorders, intravitreal injection has become the most common ophthalmic procedure performed in the United States.
This review offers practical guidance for the delivery of intravitreal injections based on published, peer-reviewed literature, and expert consensus where evidence is lacking". (Wilson & et al., 2013)
Treatment via Vitamins
Ocuvite PreserVision — Drug Information
"Ocuvite® PreserVision® is a vitamin and mineral supplement that is available without a prescription. It is used to preserve vision and slow the progression of age-related macular degeneration (also known as AMD or just macular degeneration). The medication is taken twice a day with meals.
"PreserVision is the supplement that was used in the National Institutes of Health (NIH) Age-Related Eye Disease Study (AREDS). The AREDS study showed that this particular combination of vitamins and minerals helped preserve vision in people with macular degeneration". (Monson & Schoenstadt, 2017)
Because Ocuvite PreserVision is not suitable for everyone, make sure to review the safety information on this drug before starting treatment. For example, consult your healthcare provider if you have:
Gallbladder disease, including gallstones
A bleeding disorder. "
http://macular-degeneration.emedtv.com/macular-degeneration/ocuvite-preservision—-drug-information.html
Avastin  (Bevacizumab)
Warnings on the use of Avastin:
According to MedicineNet, 2013, "This medication can rarely cause a tear in the stomach/intestines (gastrointestinal perforation). It may also increase the risk of serious (possibly fatal) bleeding, such as bleeding from the stomach/intestines or in the brain. You should not receive this medication if you have any serious bleeding problems. Get medical help right away if you have any signs of these serious side effects, including bloody or black/tarry stools, persistent or severe stomach/abdominal pain, constipation with vomiting, vomit that is bloody or looks like coffee grounds, coughing up blood, shortness of breath, dizziness/fainting, unusual or persistent tiredness/weakness, severe headache".
"This medication may also cause wounds to heal slowly or poorly or cause the wounds to break open. It can also rarely cause very serious (possibly fatal) skin and tissue infections that spread quickly. Get medical help right away if you have wounds that are not healing well, a fever, severe pain/redness/heat/swelling at the surgery site or other areas on the skin, fluid-filled blisters in the skin, discolored/scaling/peeling skin, confusion, dizziness, or fainting. You should not receive this medication for at least 4 weeks before and after a major surgery and until the wound from the surgery is fully healed" (MedicineNet, 2013).
Medical Therapy
Anti-corticosteroid therapy- Zhao and Bousquet treated patients with eplerenone, and spironolactone, a mineralocorticoid antagonist

As mineralocorticoid receptor action has been implicated in the pathogenesis of CSCR, Zhao and Bousquet treated patients with eplerenone, a mineralocorticoid antagonist, for five weeks and found a significant and rapid improvement of retinal detachment with improvement in mean central macular thickness, sub-retinal fluid height, and visual acuity that persisted at five month follow up.[39][40] Similar studies have supported this potential treatment and have shown greater efficacy in patients with chronic CSCR.[40][41] Spironolactone, another anti-corticosteroid, has been shown to decrease sub-retinal fluid, decrease central retinal thickness, and increase BCVA in patients with chronic CSCR.[58] A prospective, randomized, double-blind, and placebo-controlled study with a crossover design showed a reduction in sub-retinal fluid and sub-foveal choroidal thickness.[59] A prospective, randomized, placebo controlled trial studying the use of eplerenone for chronic CSCR found modest gains in BCVA and improvement in sub-retinal fluid height (in press).
https://eyewiki.org/Central_Serous_Chorioretinopathy
Oral eplerenone for the management of chronic central serous chorioretinopathy
"A retrospective consecutive case series was conducted for patients receiving oral eplerenone for chronic CSCR. At baseline and each follow-up visit, spectral domain optical coherence tomography (SD-OCT) imaging was performed, including manual measurements of the height and diameter size of subretinal fluid. The primary outcome measure was the reduction in subretinal fluid following initiation of therapy".
RESULTS OF USING EPLERENONE
"A total of 17 eyes of 13 patients treated with 25 and 50 mg of oral eplerenone per day were identified. Subretinal fluid (SRF) decreased over time following eplerenone therapy (P= 0.007 and P = 0.002, diameter and height respectively). Maximum SRF height decreased from a mean of 131.5 µm at baseline to 15.3 µm at day 181+. SRF diameter decreased from an average of 2174.4 µm at baseline to 46.9 µm at day 181+. LogMAR visual acuity improved from 0.42 (Snellen equivalent: 20/53) at baseline to 0.29 (Snellen equivalent: 20/39) at day 181+ (P = 0.024). Central subfield thickness (CST) decreased from 339.5 µm at baseline to 270.3 µm at day 181+ (P = 0.029)".
Other findings
In an article presented at The Retina Society, Paris, France, 10/11/15, regarding the role of oral antagonist plerenone, the Opthalmology Ther journal said, "findings suggest oral MR antagonists may have a role as an adjunctive treatment in neovascular AMD, and may be particularly useful in dehydration of the subretinal space in the setting of chronic subretinal fluid. Further research is needed in radomized controlled trials to elucidate the precise role of oral MR antagonists in neovascular AMD." (Kapoor, Todi, & Wagner, 2016). Image courtesy of : https://link.springer.com/content/pdf/10.1007%2Fs40123-016-0075-1.pdf
CONCLUSION
NCBI concluded that "Eplerenone therapy resulted in significant anatomic and visual improvements in eyes with chronic CSCR" (Singh & et al, 2015).
https://www.ncbi.nlm.nih.gov/pmc/articles/PMC4413566/
Summary
As we can see there is a variety of treatments from oral, to systemic to intravitreal injections that can be used to treat Cystoid Macular Edema (CME). The patient must exercise care to allow only what she or he thinks is appropriate, as none of them are 100% effective and in many cases only 1 out 2 patients have seen improvement in their visual pathology, although results vary (Dunaief, 2018). and https://www.news-medical.net/news/20090903/Avastin-increases-survival-rates-in-recurrent-glioblastoma-affected-patients.aspx (News Medical Life Sciences, 2009).
Drugs.com stated that "Bevacizumab can cause a rare but serious neurologic disorder affecting the brain. Symptoms include headache, confusion, vision problems, feeling very weak or tired, fainting, and seizure (blackout or convulsions)" (Drugs.com, 2019).
"These rare symptoms may occur within hours of your first dose of Avastin, or they may not appear for up to a year after your treatment started. Call your doctor at once if you have any of these side effects" (Avastin.com, 2019).
The National Library of Medicine stated in 2012 that "Cystoid macular edema (CME) is a common cause of decreased vision following complicated or uncomplicated cataract surgery. It may occur angiographically after uneventful intracapsular and extracapsular cataract surgery in up to 60% and 30% of cases respectively"
It also added that "Although intravitreal bevacizumab might be effective for many cases of pseudophakic CME, its use should be reserved for eyes unresponsive to conventional treatment modalities" (Falavarjani Ghasemi, 2012).
Interestingly enough NCBI also stated that "CME usually resolves spontaneously in about 90% of eyes and only a small subset of patients suffer permanent visual morbidity".
Additionally, "Various treatment modalities including topical, systemic, periocular and intraocular steroids; topical non-steroidal anti-inflammatory drugs (NSAIDs) and systemic carbonic anhydrase inhibitors have been used with different success rates to treat pseudophakic CME".
Although the exact reason or etiology of pseudophakic CME remains unknown, it is said that intraocular inflammation appears to play a key role in its development of this anomaly.
Finally, NCBI wrote "Although a theoretical role may be considered for VEGF inhibitors, there is no high quality evidence to recommend anti-VEGF agents as routine treatment for pseudophakic CME"
References:
https://www.reviewofophthalmology.com/article/management-options-for-macular-edema
Avastin.com, et al. (2019). Avastin- Bevacizumab: Important Safety Information & Indication. Retrieved from https://www.avastin.com/patient/mcrc.html
Drugs.com. (2019). What is Avastin? Generic Name: Bevacizumab. Cerner Multum, Inc. Version: 15.04. Retrieved from https://www.drugs.com/avastin.html
Dunaief, J., MD, Phd. (2018). How Effective are Age-Related Macular Degeneration Treatments? Bright Focus Foundation. Retrieved from https://www.brightfocus.org/macular/article/how-effective-are-age-related-macular-treatments
Falavarjani Ghasemi, K. (2012). Intravitreal Bevacizumab for Pseudophakic Cystoid Macular Edema; a Systematic Review. NCBI, US National Library of Medicine. NIH. Retrieved from https://www.ncbi.nlm.nih.gov/pmc/articles/PMC3520593/
Kapoor, K., G., Todi, N., & Wagner, A. L. (2016). Mineralocorticoid Antagonists as Adjuncts in Neovascular Age-Related Macular Degeneration. Retrieved from https://link.springer.com/content/pdf/10.1007%2Fs40123-016-0075-1.pdf
Koushik, T., & et al. (2014). Intravitreal Injections. Retrieved from https://eyewiki.aao.org/Intravitreal_Injections
MedicineNet. (2013). Bevacizumab – injection, Avastin. Medicinenet.Com. Retrieved from https://www.medicinenet.com/bevacizumab-injection/article.htm
Misselev E., V. D. (2010). Conjuctival Inflamatory Nodule in a Patient with Pityriasis Lichenoides et Varioliformis Acuta. Retrieved from https://openi.nlm.nih.gov/detailedresult?img=PMC2918649_cde0002-0125-f03&req=4
Monson, K., Pharm, & Schoenstadt, A., MD. (2017). PreserVision. Retrieved from http://macular-degeneration.emedtv.com/preservision/preservision.html
News Medical Life Sciences. (2009). Avastin increases survival rates in recurrent glioblastoma affected patients. News Medical Life Sciences. Retrieved from https://www.news-medical.net/news/20090903/Avastin-increases-survival-rates-in-recurrent-glioblastoma-affected-patients.aspx
Ramos de Carvalho, J. E., & et al. (2017). Reversal of threatening blindness after initiation of eculizumab in Purtscher-like retinopathy secondary to atypical hemolytic uremic syndrome. NCBI, US National Library of Medicine. NIH, 2018; 38(1): 399–407.(2017 Mar 8. doi: 10.1007/s10792-017-0470-1). Retrieved from https://www.ncbi.nlm.nih.gov/pmc/articles/PMC5876418/
Singh, rishi, P., & et al. (2015). Oral eplerenone for the management of chronic central serous chorioretinopathy. Retrieved from https://www.ncbi.nlm.nih.gov/pmc/articles/PMC4413566/
Wilson, M., E., & et al. (2013). How to Give Intravitreal Injections. Retrieved from https://www.aao.org/eyenet/article/how-to-give-intravitreal-injections