Topical corticoste­roids and NSAID drops
Treatments —Medical
"Topical non-steroidal anti-inflammatory medications are the most common treatment for ME following cataract sur­gery (See Figure 3). These agents are di­­rected at decreasing intraocular pro­staglandin levels, which have been im­plicated in the path­ogenesis of ME. Dou­ble-masked, randomized, active and placebo-controlled studies including patients un­dergoing cataract surgery have re­ported anti-inflammatory effects from topically applied 1% in­do­meth­a­cin, 0.03% flurbiprofen, 0.5% ketorolac, and 0.1% diclofenac ophthalmic pre­pa­ra­tions.15,16″
"Diclofenac 0.1% and ke­to­ro­lac 0.5% ophthalmic solutions, however, are the only topically applied NSAIDs spe­cif­ically approved by the Food and Drug Administration for this in­dication".
"Therapy combining a topical corticoste­roid and NSAID drops has been found to have greater efficacy in treating ME than either medication alone.16 Al­though not FDA-approved, topical NSAIDs are often used prior to cat­aract surgery to prevent postoperative ME".
"Oral acetazolamide is occasionally used in the treatment of ME secondary to inflammatory conditions and retinitis pig­mentosa, particularly when topical NSAIDs and corticosteroids fail. Several prospective, masked, crossover studies comparing ace­tazolamide and placebo in patients with ME due to a variety of causes. A five-cycle crossover study in 41 patients found a reproducible response, characterized as either partial or complete resolution of ME, in more than half of the patients with inherited or in­flammatory retinal disease, but no re­sponse from those with primary retinal vas­cular diseases".17
"A 500-mg/day or oral acetazolamide was found to be more ef­fective than 250-mg/day in treating ME in patients with ME secondary to RP.18 This study ob­served improvement in 10 of 12 treated pa­tients".
Addtionally, Reviewofophthalmology.com article stated:
"Corticosteroids are potent anti-in­flam­matory agents that are used frequently in the treatment of ME. They have multiple mechanisms of action, including stabilization of the blood-retinal barrier and inhibition of pro-inflammatory mediators. Delivery modes in­clude topical, periocular injection, intravitreal injection, and both oral and in­tra­venous administration. While oral and IV corticosteroids certainly reach the­rapeutic levels within the vitreous, they expose patients to the additional risk of systemic complications, and are therefore usually reserved for patients with sight-threatening uveitis in the setting of systemic disease. Topical corticosteroid drops are at the other end of the safety spectrum, but their ability to reach the posterior segment is limited".
indomethacin
[
in″do-meth´ah-sin
]
•" Drug may increase risk of serious cardiovascular thrombotic events, myocardial infarction, and stroke (which can be fatal). Risk may increase with duration of use, and may be greater in patients who have cardiovascular disease or risk factors for it".
• Drug is contraindicated for perioperative pain in setting of coronary artery bypass graft surgery.
• "Drug increases risk of serious GI adverse events, including bleeding, ulcers, and stomach or intestinal perforation, which can be fatal. These events can occur at any time during therapy and without warning. Elderly patients are at greater risk".
Flurbiprofen
COMMON BRAND(S): Ansaid
GENERIC NAME(S): Flurbiprofen
Flurbiprofen is used to reduce pain, swelling, and joint stiffness from arthritis. This medication is known as a nonsteroidal anti-inflammatory drug (NSAID).
If you are treating a chronic condition such as arthritis, ask your doctor about non-drug treatments and/or using other medications to treat your pain. See also Warning section.
How to use Flurbiprofen
Read the Medication Guide provided by your pharmacist before you start using flurbiprofen and each time you get a refill. If you have any questions regarding the information, consult your doctor or pharmacist.
Diclofenac Sodium Ophthalmic Solution, 0.1% is a sterile, topical, nonsteroidal, anti-inflammatory product for ophthalmic use. Diclofenac sodium is designated chemically as 2-[(2,6-dichlorophenyl)amino] benzeneacetic acid, monosodium salt, with an empirical formula of C14H10Cl2NO2 Na. The structural formula of diclofenac sodium is: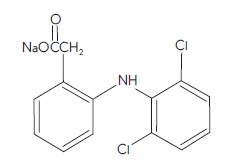 Pharmacodynamics
"Diclofenac sodium is one of a series of phenylacetic acids that has demonstrated anti-inflammatory and analgesic properties in pharmacological studies. It is thought to inhibit the enzyme cyclooxygenase, which is essential in the biosynthesis of prostaglandins".
Acetazolamide
COMMON BRAND(S): Diamox
GENERIC NAME(S): Acetazolamide
"This drug is also used with other medications to treat a certain type of eye problem (open-angle glaucoma). Acetazolamide is a "water pill" (diuretic). It decreases the amount of fluid that can build up in the eye. It is also used to decrease a buildup of body fluids (edema) caused by congestive heart failure or certain medications. Acetazolamide can work less well over time, so it is usually used only for a short period.
It has also been used with other medications to treat certain types of seizures (petit mal and unlocalized seizures).
How to use Acetazolamide
If you are taking the tablets, take this medication by mouth, usually 1 to 4 times daily or as directed by your doctor. If you are taking the long-acting capsules, take this medication by mouth, usually 1 or 2 times daily or as directed by your doctor. Swallow the long-acting capsules whole. Do not open, break, or chew the capsules. Doing so can destroy the long action of the drug and may increase side effects.
Acetazolamide may be taken with or without food. Drink plenty of fluids unless otherwise directed by your doctor. Your dosage is based on your medical condition and response to therapy.
Nepafenac Ophthalmic
Generic Name: nepafenac ophthalmic (ne PA fan ak off THAL mik)
Brand Names: Nevanac
"
What is nepafenac ophthalmic?
"Nepafenac is a nonsteroidal anti-inflammatory drug (NSAID). It reduces pain and inflammation in the eyes. Nepafenac ophthalmic suspension is used to reduce pain and swelling after cataract surgery.
Nepafenac ophthalmic suspension may also be used for other purposes not listed in this medication guide".
References
https://www.reviewofophthalmology.com/article/management-options-for-macular-edema
How to Naturally Lower Prostaglandins With Foods. https://www.livestrong.com/article/253170-how-to-naturally-lower-prostaglandins-with-foods/
https://medical-dictionary.thefreedictionary.com/INDOTEC
https://www.webmd.com/drugs/2/drug-13459/flurbiprofen-oral/details
https://www.drugs.com/pro/diclofenac-ophthalmic-solution.html
https://www.webmd.com/drugs/2/drug-6755/acetazolamide-oral/details
https://www.drugs.com/nepafenac.html